Report recognized for excellence in marketing communication and design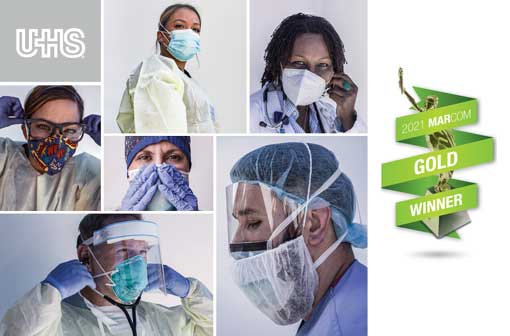 The annual MarCom Awards honors excellence in marketing and communication while recognizing the creativity, hard work, and generosity of industry professionals. The 2020 UHS Annual Report was recognized as a gold award winner for excellence in marketing communication and design.
Read more about this recognition →
Since its inception in 2004, MarCom has evolved into one of the largest creative competitions in the world. Each year about 6,500 print and digital entries are submitted from dozens of countries.
MarCom is administered by the Association of Marketing and Communication Professionals (AMCP).
The international organization, founded in 1995, consists of several thousand marketing, communication, advertising, public relations, digital, and web professionals. AMCP administers recognition programs, provides judges, and rewards outstanding achievement and service to the community. Entrants are not charged entry fees for work they create pro bono for nonprofits. In the past few years alone, AMCP has contributed more than $250,000 to charitable causes.
Congratulations to the UHS Agency for this win!