According to Reputation, a reputation experience management company, UHS has the third-highest Reputation Score among the 25 largest health systems evaluated.
The Reputation Data Science team analyzed nearly 2.8 million patient reviews across more than 179,000 physician and locations. Among the 25 largest health systems evaluated in 2021, Universal Health Services (UHS) ranked third.
Health systems were ranked based on their Reputation Score, a metric calculated using artificial intelligence. This Score considers a location's sentiment, visibility and engagement, across nine key elements (i.e., star average, review volume, review recency and review response).
Notably, unlike most health systems evaluated, UHS had a near-perfect engagement rating (98%). This high level of engagement underscores our Corporate Online Reputation Management team's close monitoring of, and responsiveness to, our patients' online feedback.
---
Reputation Report Healthcare Industry '22
The Top 15 Healthcare Systems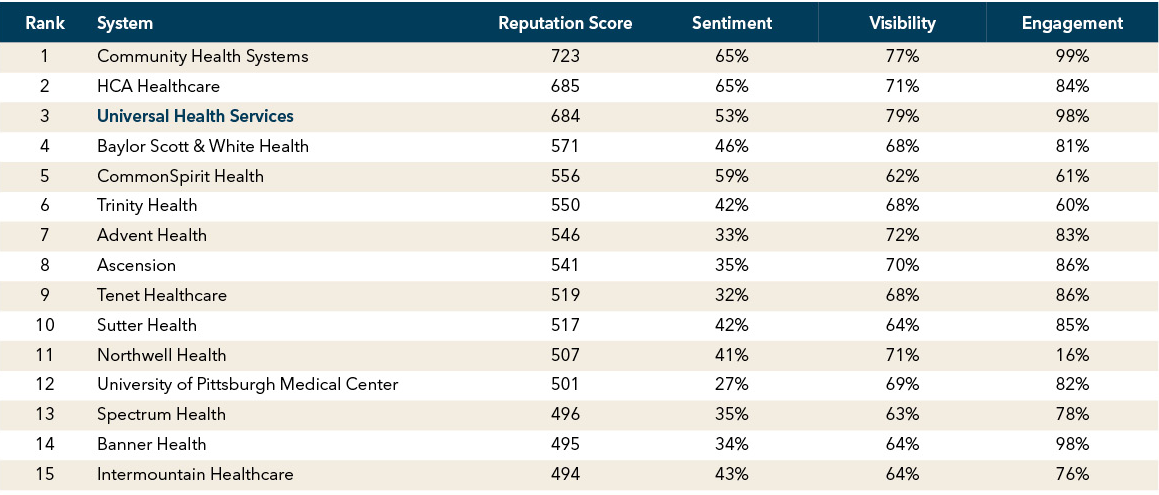 ---
Reputation provides UHS feedback from both solicited and unsolicited feedback from various sources, at multiple touchpoints, to get fuller view of sentiments and patient satisfaction levels around our facilities, as well as competitors. In addition to benchmarking our performance, this tool also may offer insights, such as areas needing improvement, that may be used to improve our patients' experience and outcomes.