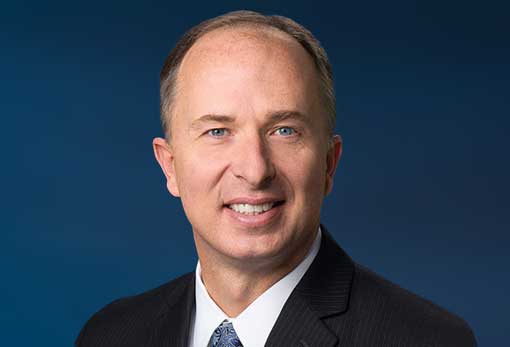 KING OF PRUSSIA, Pa. (September 25, 2023) — Universal Health Services (NYSE: UHS) announced today the appointment of David Rice, MD, MHL, FACHE, to Chief Medical Officer, Acute Care Division. In this role, Dr. Rice will partner with Acute Care Division leaders to enhance the quality of care and patient outcomes delivered in our hospitals, facilities and care access points, and will be instrumental in advancing our physician alignment and clinical integration strategies.
Dr. Rice brings a wealth of experience in both clinical and quality leadership, with more than 20 years of championing improvements in quality, safety and efficiency of patient services through innovative models of care, education and the institution of key performance metrics across multi-site healthcare systems.
"Dr. Rice has a proven track record of delivering patient outcomes that closely aligns to UHS' mission to provide superior quality healthcare services," said Edward Sim, EVP and President, Acute Care Division. "David will be an excellent addition to the UHS team, and we look forward to his leadership."
Most recently, Dr. Rice served as Executive Vice President, Chief Physician Executive, at Flagler Health+ in Northeast Florida. As a member of the executive team, he helped guide policy and operations for the health system. In this capacity, Dr. Rice led the employed physician network and professional clinical services within hospital and ambulatory settings, including clinical quality; patient safety; performance improvement; utilization review; infection control; and accreditation. He also oversaw medical staff services and the Continuing Medical Education and cancer programs.
Previously, Dr. Rice served at Baptist Health for several years, taking on various roles with increasing levels of responsibility in the quality and clinical domains, culminating with his appointment to Senior Vice President, System Chief Medical Officer and Chief Quality Officer. During his tenure with Baptist Health, Dr. Rice launched a physician-led, clinically integrated network of approximately 1,000 physicians to deliver high-quality, low-cost, value-based healthcare to the Northeast Floridia market as the Founder and Chief Medical Officer of Baptist Physician Partners.
In addition to his longstanding commitment to delivering high-quality healthcare services, Dr. Rice's involvement in community and industry affiliations, such as the American College of Healthcare Executives and the Professionals Resource Network, underscores his dedication to advancing healthcare on a broader scale.
Dr. Rice earned his Bachelor's degree in Biology from Florida State University and a Doctor of Medicine from the University of Florida. He additionally earned his Executive Master in Healthcare Leadership from Brown University School of Professional Studies.
About Universal Health Services, Inc.
One of the nation's largest and most respected providers of hospital and healthcare services, Universal Health Services, Inc. has built an impressive record of achievement and performance. Growing steadily since our inception into an esteemed Fortune 500 corporation, our annual revenues during 2022 were approximately $13.4 billion. In 2023, UHS was again recognized as one of the World's Most Admired Companies by Fortune; ranked #331 on the Fortune 500; and ranked #434 among U.S. companies on Forbes Global 2000 World's Largest Public Companies.
Our operating philosophy is as effective today as it was upon the Company's founding in 1979, enabling us to provide compassionate care to our patients and their loved ones. Our strategy includes building or acquiring high quality hospitals in rapidly growing markets, investing in the people and equipment needed to allow each facility to thrive, and becoming the leading healthcare provider in each community we serve.
Headquartered in King of Prussia, PA, UHS has approximately 94,000 employees and through its subsidiaries operates 27 inpatient acute care hospitals, 331 inpatient behavioral health facilities, nearly 40 outpatient facilities and ambulatory care access points, an insurance offering, a physician network and various related services located in 39 U.S. states, Washington, D.C., Puerto Rico and the United Kingdom. It acts as the advisor to Universal Health Realty Income Trust, a real estate investment trust (NYSE:UHT).
Contact
For more information
Steve Filton Chief Financial Officer Universal Health Services, Inc. 610-768-3300
Jane Crawford Public Relations Universal Health Services, Inc. 610-382-4830