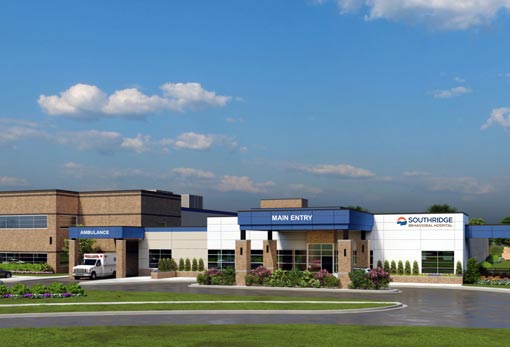 King of Prussia, PA and Grand Rapids, MI, June 9, 2022 — On Monday, June 6, 2022, the Michigan Department of Health and Human Services ("MDHHS") issued a Final Order granting Havenwyck Hospital, Inc., a subsidiary of Universal Health Services, certificate of need approval for 60 adult psychiatric beds, allowing Universal Health Services and Trinity Health Michigan, in a joint venture, to open a new freestanding inpatient behavioral health hospital in Byron Center, improving access to care for patients.
The new facility will be named Southridge Behavioral Hospital and will accommodate up to 96 beds, including the 60 adult beds plus 24 geriatric beds previously approved by MDHHS. The new facility, to be located near the Trinity Health Medical Center in Byron Center, is anticipated to open in 2024. The hospital will employ approximately 170 full-time and part-time employees including physicians, nurses, therapists, mental health technicians, administration, dietary and housekeeping personnel.
"With CON approval of the 60 inpatient behavioral health beds, we are eager to start construction of the new hospital as expeditiously as possible," said Matt Peterson, President, Behavioral Health Division, UHS. "Trinity Health has a strong reputation as an anchor in West Michigan and we are thrilled to partner with them in bringing more accessible care to more patients – ultimately improving and saving lives."
The design of the new hospital incorporates today's modern, innovative, evidence-based care elements that focus on patient safety. Programming will be tailored to individual patient needs, with core psychiatric services and counseling supplemented by enrichment activities such as art therapy, music therapy, pet therapy and outdoor activity.
The new Southridge Behavioral Hospital will seamlessly tie into a growing network of affiliated behavioral health services in the area, including UHS-operated Forest View Hospital and Trinity Health Michigan's new partnership with Network180 to open a Behavioral Health Crisis Center for the rapid availability of assessment services on a walk-in basis. Further, the new Southridge Behavioral Hospital will provide additional provider and patient choice in the market, specifically at an easily accessible location south of Grand Rapids.
"We look forward to working with UHS to enable the availability of more inpatient behavioral health options in our region," said Matt Biersack, MD, President of Trinity Health Saint Mary's. "It is a strategic imperative that we prioritize solutions for individuals in crisis presenting to local hospitals, including our Trinity Health emergency departments, as well as other referral sources. The new facility will be a receiving site enabling initiation of appropriate care, faster."
In March 2022, an administrative law judge upheld an initial decision by MDHHS to award CON approval for development of the new behavioral health hospital. The Department issued the Final Order approving the project on June 6, 2022.
About Universal Health Services
One of the nation's largest and most respected providers of hospital and healthcare services, Universal Health Services, Inc. has built an impressive record of achievement and performance. Growing steadily since our inception into an esteemed Fortune 500 corporation, our annual revenues were approximately $12.6 billion in 2021. In 2022, UHS was again recognized as one of the World's Most Admired Companies by Fortune; ranked #297 on the Fortune 500; and in 2021 ranked #307 on Forbes' list of America's Largest Public Companies.
Our operating philosophy is as effective today as it was upon the Company's founding in 1979, enabling us to provide compassionate care to our patients and their loved ones. Our strategy includes building or acquiring high quality hospitals in rapidly growing markets, investing in the people and equipment needed to allow each facility to thrive, and becoming the leading healthcare provider in each community we serve.
Headquartered in King of Prussia, PA, UHS has approximately 89,000 employees and through its subsidiaries operates 28 acute care hospitals, 335 behavioral health facilities, 40 outpatient facilities and ambulatory care access points, an insurance offering, a physician network and various related services located in 39 U.S. states, Washington, D.C., Puerto Rico and the United Kingdom. It acts as the advisor to Universal Health Realty Income Trust, a real estate investment trust (NYSE:UHT).
About Trinity Health Michigan
Trinity Health Michigan is a leading health care provider and one of the state's largest employers. With more than 24,000 full-time employees serving 29 counties, Trinity Health Michigan is composed of eight hospitals located in Ann Arbor, Chelsea, Grand Rapids, Howell, Livonia, Muskegon, Pontiac and Shelby. The health system has 2,233 beds and 5,290 physicians and advanced practice providers. With operating revenues of $4.1 billion, Trinity Health Michigan returns $175.6 million back to their local communities each year. Together with numerous ambulatory care locations, three home health and hospice agencies and 22 senior living communities owned and/or operated by Trinity Health, Trinity Health Michigan provides the full continuum of care for Michigan residents. Nationally, Trinity Health is among the country's largest Catholic health care systems.
Contact
For more information